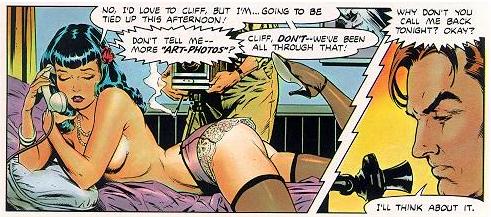 Appreciation by Noah Mallin

Dave Stevens will be best remembered for creating The Rocketeer, one of the most successful independent comic books titles of the 80s and one that, along with the Hernandez Brothers' Love and Rockets established the move towards a new appreciation of the format in ensuing decades.

The fantasy pulp 30s setting and premise of a deco designed hero with a rocket pack to match also would similarly be echoed within and without its genre, from literature to movies and even to the world of design.

The Rocketeer's girlfriend Betty was an obvious Betty Page homage -- obvious that is to the few who even knew who the 50s fetish pin-up model was. It was Steven's obsessive knowing portrayal of her that served to introduce her to the masses. Steven's himself was surprised to discover that she was alive and well and the two began a correspondence during the run of The Rocketeer. They became friends and as her fame began its resurgence he tried to help protect her and see that she benefit from the renewed interest. Mark Evanier, who knew Steven's, recounted him saying "It's amazing. After years of fantasizing about this woman, I'm now driving her to cash her Social Security checks."


After selling the rights to The Rocketeer to Disney Steven's began to work more in the realm of illustration, often doing covers and stylized pin-up images. The film version of The Rocketeer is a great deal of fun, particularly with the apt casting of Jennifer Connelly as Betty, though it was a box office disappointment.




Stevens himself was an inspiration for illustrator and ex-girlfriend Laura Molina's work, specifically a series she called Naked Dave. Molina was quoted as saying:

"There's something I've realized about why these paintings make people so uncomfortable. Dave Stevens is a "male muse", and an unwilling one at that. The traditional gender roles have been reversed. This upsets the order of things. Women are not supposed to have my technical skill or use it to toy with and objectify a male subject. I do this for the same reason that Dave and other male artists continue to paint and draw naked women.... Because I can."

Steven's was also briefly married to model and b-movie scream queen Brinke Stevens in the early 80s. She continued to model for him after their divorce.

His death came after a long struggle with leukemia. Reportedly he was working on a career retrospective of his work.