The few remaining Italian design houses are using next week's Geneva show as a showcase for their talents, as is their wont. Italdesign Guigiaro has unveiled the Quaranta which celebrates the firm's 40th anniversary, and their continued survival under the auspices of the younger Giugiaro.
The Quaranta pays explicit tribute to one of the firm's first designs, the Bizzarrini Manta concept from 1968: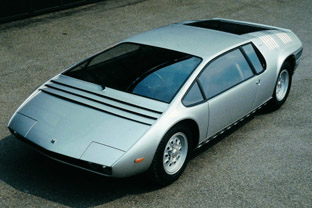 Like the influential Manta, the Quaranta is a radical wedge-shape. The Manta helped kick off the aerodynamic craze of the 70s and 80s, which
Pini
nfarina's new Sintesi concept
also evokes. The Quaranta is unlikely to wield as much imaginative power as its predecessor though.
The best view is from above, where the purity of the shape, the radical arc of the roofline and repetition of this curve in the front fenders flow harmoniously together.
The side view also has promise but the clumsy vents
behind the doors and on the lower body betray the clean lines. The side glass is very well handled, especially as it seems to flow in one piece over the front fenders and wheels.
The rear end seems busy and contrived. The rear fender planes meet a darkened rear spoiler and a collection of triangular planes which are probably meant to evoke the wedginess of the roof.
Overall not a classic, and with echoes not just of Giugiaro's earlier work but also that of former rival on the brink of bankruptcy Bertone's past work (especially up front) Quaranta is intriguing if unsatisfying.