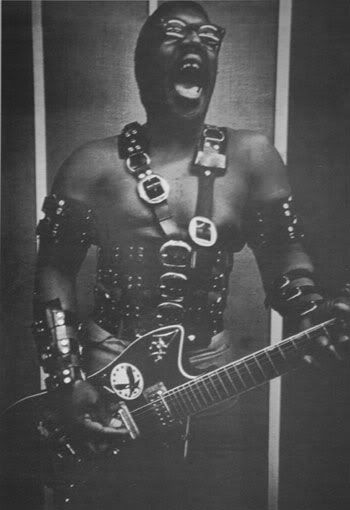 An Appreciation by Noah Mallin

When the pioneers of rock n' roll are mentioned Chuck Berry and Elvis Presley often vie for the top of the list. The late great Bo Diddley however was just as important to music. The singer, songwriter and guitarist was one of the greatest American musicians. It's one thing to name a song after yourself (which he did frequently). It's another to invent a beat. And not just any beat.

The so-called Bo Diddley beat (which had a long complex derivation before he popularized it) would underpin songs from Buddy Holly, The Rolling Stones, The Beatles, The Who, The New York Dolls, The Ramones, The Jesus and Mary Chain, George Michael and countless others.

He didn't just invent the beat, he invented himself as a glasses wearing swaggering woman-taming cowboy with a homemade square guitar. His sound was actually more varied than legend suggests ranging from ballads to outright rockers. With sidekick Jerome Green he developed an outrageous call and response that echoed in the rough and clownish contrast of Chuck D. and Flava Flav in Public Enemy. His chicken-scratch guitar style prefigured funk and he toured with a sexy female guitarist in the late 50s and early 60s who could play just as sharp as she looked named Lady Bo. In short, he was the coolest man in the world.

In 1979 The Clash asked him to open up for their US tour, but by then he was already a legend freighting his substantial back catalog of songs with him from concert to concert. It's that catalog that survives him and defines his legacy.

Neophytes should immediately seek out the two-disc Chess Records anthology and then the fantastic Bo Diddley is a Gunslinger LP to truly appreciate a musical giant who is with us no more.